Anna and Jeremy were looking for a venue that was central, affordable, offered good food and drinks, had long opening hours, and most importantly, would allow for a laid-back, good-old party.
Names: Anna & Jeremy
Looking for: Wedding
Venue: Tanner Warehouse
Date: June 2019

Anna & Jeremy say:
Objective: When we first set out to look for a wedding venue, Jeremy and I had absolutely no idea what type of wedding we wanted.
The venue: There was a part of me – probably the old-fashioned romantic girl – that liked the idea of an outdoor celebration surrounded by nature with people sitting on long wooden tables and children joyfully romping around. When roaming through tons of websites promoting outdoor weddings in the English countryside, no venue really clicked with us. Simultaneously, we checked out numerous venue options in the heart of London, and interestingly, the idea of getting married in the place where Jeremy and I first met and spent the following five years together (him being French and me being German) made our hearts beat faster with excitement. We realized that London, this buzzing city with all its dazzling streets full of novelty and loving, funky characters, became the stage on which we bonded over so many beautiful and intense moments together. Having set our hearts on London, we were now looking for a venue that was central (as we were planning a destination wedding), affordable, offered good food and drinks, had long opening hours, and most importantly, would allow for a laid-back, good-old party.

Having moved to California about three years ago, we were bound to plan our complete wedding from abroad – what a challenging endeavour! From the moment we got in touch with the Tanner team, we experienced the most reliable and professional support from a team that was incredibly fun, flexible, and easy-going to deal with. Due to the availability of our ceremony venue, we had to have our wedding on a Sunday. Tanner Warehouse was the only venue we found that let us party until 2am on a Sunday. (As traditional German weddings go until the early morning light, there was no way we could have made our guests travel all the way to London and send them home at 11pm or midnight!). In addition, its location on Bermondsey Street was not only central but also perfect for all travellers to find accommodation nearby – plus, it's placed in such a beautiful and historic area of London. Lastly, we were looking for a space that would make guests let go of their everyday stress, enjoy good food and company, and cheerfully celebrate love and friendship. Thus, we wanted something more untraditional that connects novelty and the unexpected with a homely and cozy environment. And that's exactly what Tanner Warehouse ended up offering us – for a price that we thought was extremely competitive for central London!

The planning: Miles, our contact person at Tanner Warehouse, was incredible! As we not only planned our wedding from abroad but also felt responsible for the entertainment of all our guests who flew in from numerous countries, I took the wedding planning process pretty seriously. 🙂 Miles was so patient with all our creative ideas, suggestions, visions and helped everything come together. He also had some great recommendations on weddings florists, bands, and lighting. We ended up having a mixture of amazing C&H food and drinks, with personalised DIY decoration, rental of vases and candle holders, and a self-sourced florist and band.
When Jeremy and I finally visited Tanner Warehouse for the first time, a few months before the wedding, the whole team made us feel extremely welcome and we had the best time during our wine tasting! Generally, the crew was very accommodating with all our extra wishes, such as letting us practice our wedding dance the day before or being so helpful when organising the pick-up of all wedding props the day after.

The big day: On the day of the wedding, I will never forget the moment Jeremy and I first walked in the venue after arriving from our ceremony. It was so magical to see how everything came together and how such a unique, stunningly beautiful space was created. Throughout the night, the whole Tanner team was extremely attentive and friendly, so that we had absolutely no doubt that all our guests were in good hands. As we had previously worked out the schedule of the night with Miles, the crew made sure that everything ran smoothly (while being flexible with the usual delay in schedule! :)) and thus allowed us to just enjoy the night with our guests!
The food: Lastly, the food was absolutely beautiful – and all our guests loved the "feast" version as the act of sharing food created such a homely atmosphere.
The verdict: Thank you for a night that will always be remembered!

Photos by Matt Parry Photography.
Tomorrow night the House of Burlesque launches its first ever Summer Speakeasy at Grace Hall, Leadenhall. We caught up with Queen of Provocateurs, Tempest Rose, to find out more about the decadent world of Burlesque.
How did you get into Burlesque?
My first burlesque job was in Kitten Club Burlesque Cabaret at underground burlesque club Volupte. I trained in musical theatre and had to put together a routine I thought was 'burlesque', with singing, dance and comedy for the audition which came through a friend of a friend. This was before burlesque hit the mainstream. I had an idea that it would be like the Kit Kat Club in Cabaret and, in fact, I was not far off. I did the audition and was invited to watch the show. It was exciting, multi-skilled, sexy and satirical. I knew I wanted to be involved immediately and luckily I was offered a place in the troupe.
Why do you think Burlesque can be empowering to women?
Burlesque allows the performer to design their sexuality by their own rules. It's not about conforming to a narrow mainstream idea of what is attractive or sexy, but throwing the rule book away and writing our own rules. It's about celebrating women as they are, and not just our bodies, but our minds and creativity – as whole beings.
What would you say to people who think Burlesque is demeaning to women?
Go and see a show! At House of Burlesque we celebrate women as whole, confident, sexy, powerful, funny, provocative and amazing! Too often women are denied the chance to own their own sensual representation, burlesque done properly is the exact opposite – how can that be demeaning? Step into our world for a night – and let us entertain you.
Why do you think people should see a Burlesque show?
Get out that outfit you are worried might be "too much" but have always wanted to wear and come and see a House of Burlesque show- because we are the best at what we do. Glamorous, decadent, innovative, entertaining, tongue in cheek and uplifting. We love what we do and can't wait to share that magic with you!
House of Burlesque will be performing at Grace Hall every Friday night from 26th July – mid November. Pre and Post dinner options are available to be pre-booked. Book your tickets here.
Leon Seesix, better known by his moniker Dotmasters was born and raised in London. In the early 1990s he started painting on the streets of Brighton. Fast forward over two decades later and he's a world-renowned artist and we're lucky enough to have him create bespoke pieces for our Six Storeys, Tanner & Co. and Victorian Bath House Camm & Hooper venues.
1. What have you been working on for Camm & Hooper?
I've recreated a few bits and pieces that I usually stick up on the street in the venues. I stencil wallpaper on walls as a background for my Rude Kids series and Debra [managing director] thought this would work in the corridor for Tanner & Co downstairs.
Rude Kids originally started on Bermondsey Street, which is where Tanner & Co is, and we wanted to bring a bit of the street inside. I love bringing the inside outside and outside inside. I like to do wallpaper-esque indoor type pieces outside and street art inside. It keeps people guessing.
I was then invited to an open house at the Victorian Bath House and saw that the walls were pretty bare, so after speaking with Debra we also agreed that some wallpaper stencilling would work there too. I'm planning to go into Six Storeys and shake things up a little there as well.
2. How did you get into this?
I knew Debra, the MD of Camm and Hooper already, through mutual friends.
3. Have you seen all the Camm & Hooper venues / do you have a favourite?
I haven't yet seen Six Storeys believe it or not. My favourite is Victorian Bath House.
4. Do you have a favourite piece of work?
I'm doing a new series called 'Stick 'em up' – which is effectively different objects stuck to walls with gaffer tape. Whatever is new is usually my favourite at the time of asking… So at the moment – that's it!
5. Are you often asked to create exclusive works for clients? If so, do you tailor your work to the space? Or do you just go with the flow?
Yes, all the time. I've done a broad range of commissions in an interesting range of spaces, from very high-end houses to trailer parks. I've done some very exclusive and bespoke things for some rather wealthy folk out in St John's Wood and also some unique pieces in Mallorca villas. But I've also done caravans at Glastonbury.
It's an interesting process collaborating with whoever has commissioned some – it takes a lot of time and consideration. It's not graffiti at the end of the day, it's something someone has to love, and it has to work in their home, or whatever space they commission it for. It's very personal.
I like doing this sort of work. It really brings out a different creativity inside me, as it's not just my own feelings and ego I'm creating and working with. I am working with someone else and for someone else.
6. What's your view on art in hospitality spaces? Does it usually just fill blank walls or really add to the experience (if done well)?
It depends. Steve Lazarides (Banksy's old manager) did a series of installations near The Old Vic. He created an art gallery in old railway arches and brought in a Michelin starred chef too. What an incredible space that was. So, it can work. It can just be any old b*ll*cks though.
I worked with the Beckhams and Elton John on their weddings as an event producer. So that sort of taught me my way around how art project can marry (ha) up with an event space.
7. Do you have a favourite place to work?
On the streets. And anywhere the paint dries quickly. LA, Bali… New Zealand was OK, bit cold though.
– What about your favourite place (not for art / work)?
The world is a very beautiful place. The Himalayas are beautiful, Wales is beautiful… I think it comes down to the mixture of people and the space you're in.
There's a field on Worthy Farm (Glastonbury festival) that is probably my favourite spot ever.
8. What jobs have you done other than being an artist?
I've done everything. My first job was mapping – I'm a trained cartographer, I was trained by Ordinance Survey. I've also done displays for Louis Vuitton stores and graphic design.
As an artist, you have to do a bit of everything.
9. What makes you really angry?
Running out of cigarettes on a Sunday night. I won't mention the Br#### word…
I'm not an angry person really. I lead the live I want to lead and that makes me happy.
10. Do you class food as art?
Yes. 100%.
11. How about drinks?
Most definitely!
12. Greatest living inspiration?
Lots of things inspire me. My wife is definitely one.
13. What's your dream project?
Every time I dream of a project, I end up doing it. I co-run a field at Glastonbury. I do the Unfairground. This was always a dream of mine and I did it. Now I've got it and it's great.
https://www.instagram.com/dotmasters/?hl=en
https://dotmaster.co.uk/shop/chanel-pink/
Ronnie Murray has joined London-based iconic events company Camm & Hooper as group executive head chef. Ronnie, who previously spent seven years as group head chef of HIX Restaurants, will create new menus for all six of Camm & Hooper's London venues whilst heading up of a team of 20 chefs.
Camm & Hooper delivers exceptional events in banks, warehouses, townhouses and libraries, transforming some of London's most iconic venues.
Ronnie trained in patisserie and for 17 years worked for many critically-acclaimed restaurants including J. Sheekey and Scott's restaurant. After his time at Mark Hix's highly-successful restaurants he set up his own company Peckham Manor, which includes pop-ups and supper clubs. Ronnie has also appeared on the Great British Menu, Million Pound Menu, Sunday Brunch and has aired demonstrations on the Vice channel Munchies. He joined Camm & Hooper late last year.
He will launch Camm & Hooper's exciting new menus later this month.
"I'm excited about the opportunity to move around our six sites, which all have their own personalities, and create bespoke menus for them all," said Ronnie. "For me, it's all about keeping food simple. Seasonality and provenance will form the cornerstone of our new menus."
Debra Ward, Managing Director for Camm & Hooper, said 'We are thrilled to have Ronnie at the heart of our in-house team. Ronnie's ability to curate simple seasonal items, expertly create innovative dishes combined with his passion for team development is already transforming our clients' gastro-experience."

1.      What is a Chief Beverage Engineer (apart from the best job title in the world)?
This is really the culmination of 20 years of tending bar and creating drinks. I am not really a fan of the term 'mixologist'. Seems a bit pretentious, non? Making drinks is not all that's at stake here. Being a good salesman, a thoughtful craftsman, a bit of an artist all helps. Most of all though being a great host.
2.      What's the best thing about working for C&H?
The Booze Lab! I get to do some really whacky stuff with drinks, and I love the expression on people's faces when they walk through the door. Pure wonder, as it should be.
3.      How do you work with clients? (tailor to the needs of a particular event / experience of having a CBE)
If people want something really special or bespoke we can sit down and run through their criteria. I have produced infusions based on the flavour pyramid of perfumes. Really interesting because of the close relationship with distilling for fragrance and distilling for drinking. Best not to get the bottles mixed up though. Last year I produced a cocktail for a company's Bi-centennial anniversary. It ended up being reproduced around the globe so very proud of that one.
4.      Give us some Patrick wisdom …
·       Delicious first
·       The queue is our enemy not the people in it
·       A beer in the hand is worth two in the book
·       Never drink more than you can carry
5.      What luxury item would you take on a desert island?
Hmmm good question. It would either have to be Spotify and something really loud to play it on or an endless supply of Wray & Nephew. What's the point of being on a desert island if you can't have rum?
6.      What's the most bizarre ingredient you've put into a cocktail (so far)?
Venison…
7.      What's your hangover cure?
Staying drunk.
8.      What's the worst job you've ever had?
I worked in a high street bank mail room sorting statements into envelopes. Mind numbing!
9.      Your all-time favourite cocktail?
The one that someone is buying me.
10.    If you were a cocktail, what would you be?
Rum old fashioned. Sweet, strong and not to everyone's' taste.
On the 8th February we hosted the catering for the Macmillan Cancer Conference at Whittington Hospital. We were thrilled to offer our services to such an incredible cause, which is incredibly close to our hearts here at Camm & Hooper. See below for some images of the day and some of the food & drink we were serving up.
Here is a quote of feedback we received from the organiser of the event:
It was absolutely wonderful and please can't thank the team enough! The food was amazing. I't's such a treat for our patients to get such lovely food and great enthusiastic young people serving it!! Double whammy!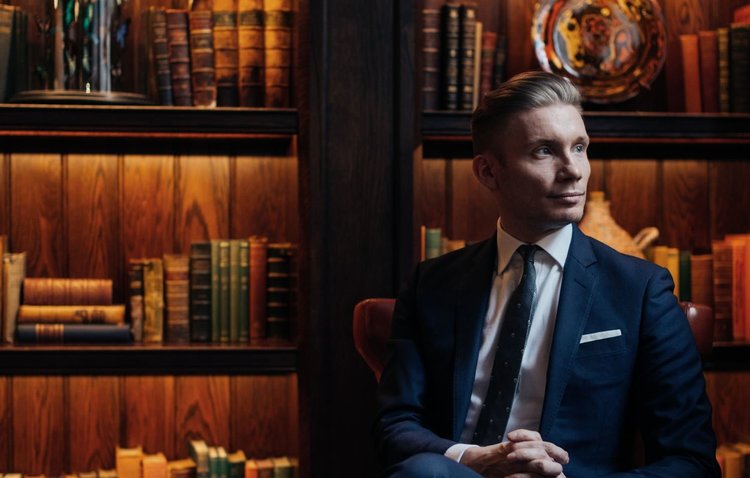 Mark Niemierko
Britain's premier high-end social event and wedding planner
Photo Credit : Tom Griffiths
Mark Niemierko is widely regarded as Britain's premier high-end social event and wedding planner. His company, Niemierko, has arranged parties and weddings for high society couples all over the world including Julie and James Corden's Babington House wedding and Rochelle and Marvin Humes' Blenheim Palace nuptials.
No detail is too small, nor task too gigantic for Niemierko's extensive experience and British military-style precision. Prior to taking to the stage in a Q&A at our Progressive Wedding Showcase in January Mark Niemierko has answered the burning questions which we simply couldn't wait to ask.
What factors should a couple consider when choosing a wedding venue?
Selecting and confirming your wedding venue should be the first part of your planning process. Prior to researching venues you need four fundamentals in place.
Your ideal dates you'd like to get married, number of guests likely to attend, overall location such as a city London wedding, countryside location or destination (which country)! Then finally an honest overall budget of what you can afford. Knowing these items in advance will help you narrow down your search.
There are many other factors to consider but I'd highly recommend selecting a venue not just on the décor, style or location. Test how quickly a venue comes back to you, are they knowledgeable, and more so welcoming when you visit. As stunning as a venue may be it won't make your wedding amazing – the team at a venue are what makes a great wedding.
Location is important. For example a countryside venue with no accommodation – check it has suitable accommodation for yourself and guests nearby.
Check timings – You want to get married at 4pm – don't just hire a space from 4pm. Your suppliers such as florist and caterer will need access typically much earlier in the morning to setup. Finish time is also important – ask what time music and bar must close as well as a clear/break down time – for your suppliers to clear the venue once you and your guests have departed.
PHOTO CREDIT:HELLO MAGAZINE
ROCHELLE AND MARVIN HUMES|BLENHEIM PALACE
In your opinion what are the key traits of an iconic wedding venue?
People. The team within a venue are what make a venue iconic. Owners and Managers spending the money and putting in the care and time to train their team is REAL luxury.
Are there any trends that you are loving? Equally, are there any trends you'd happily leave behind?
Overall I don't believe in trends – as much as I don't believe in Pinterest. I encourage my couples to avoid Pinterest and peer pressure. However there are certainly some traditions and styles that have moved on and been replaced. Low floral table centres are far more popular than oversized tall vases. Candelabras have been replaced with coloured tapered candles. I'm also obsessed with contrasting linen and florals. So placing blush pink flowers onto a navy table cloth for example
The cutting of the wedding cake is over. It's the biggest non-event. In place, my couples are either having a whole pudding room (rather than sweet station) or simply including a cake but making no big fuss around cutting it!
Do you get many weird and wonderful requests? If so, what's the weirdest?
Overall I believe what makes each one of my weddings different to the last is that they are a perfect reflection of that couple. I don't want my weddings to look like Niemierko Weddings, I want each wedding to effortlessly echo that couple. Thus the weirdest ideas I think actually come from me, once I've got to know my couple. Great examples are finding out from one Bride she had an obsession with Abba and disco music – we were designing this terribly classic and chic wedding. Around 11pm at her wedding a giant mirror ball appeared from the ceiling (almost like a moon) moving down towards the dance floor. In addition we had three female dancers join the guests on the dance floor, who just happened to have mirror ball heads!
If you know me I believe in characters and a little campness making appearance even at a wedding – from a Studio 54 themed Night Club at one wedding with a Prince impersonator and shirtless bus boy dancers to a drag queen singing Britney tracks and a feather boa rail in the middle of the New Forest at Lime Wood hotel.
Anything grand or over the top at a Niemierko wedding will have plenty of humour behind it.
What's the most spectacular wedding you've ever planned?
All my weddings are spectacular in their own right. I guess however my Battersea Power Station back in 2012 tops them all for detail. However I have some spectacular things planned for 2019 – but I can't talk about them yet!
What's your secret to being one of London's most influential wedding planners?
I don't think I'm the most influential. I think the secret, if you want to call it that, to my success and position within the industry is that I never want to repeat, I get bored easily thus I always want to look to the future and the next the event. And more so I listen to my clients…. Listening to who your clients are will ensure you create unique work.
PHOTO CREDIT:NIEMIERKO
JULIE AND JAMES CORDEN|BABINGTON HOUSE
Is there anyone that you would love to work with?
The Queen.
You've planned an event at Victorian Bath House – what other Camm & Hooper venue would be top of your list to takeover?
I'm really keen to do something at Banking Hall…. One day.
PHOTO CREDIT:DAVID PULLUM AND NIEMIERKO
If you could offer one piece of advice to a couple planning a wedding what would it be?
Enjoy it. Have fun. Don't take yourselves seriously. Don't copy what you see on instagram – be true to your own tastes and styles. And remember you are the hosts – focus on your guests and you'll have the best wedding EVER.
Event and hospitality group Camm & Hooper is thrilled to have won Best Venue Portfolio Marketing and Best Private Dining Venue at the Hire Space Awards.

The Hire Space Awards celebrate the best of the events industry, by recognising and rewarding hard-working, innovative and forward-thinking venues and event bookers around the UK.
The annual awards took place on October 24th at the Museum of London in the museum's galleries and the Sackler Hall space.

Camm & Hooper has evolved the events industry model, taking inspiration from the relaxed, contemporary setting provided by bars and restaurants and transitioning it into an events environment. Its approach is innovative, creative and unrivalled. You will find Camm & Hooper in some of the most unique and historic buildings across London. Its first two locations, Tanner and Co and Tanner Warehouse opened in 2012, followed by Banking Hall, Cornhill in May 2014. The Victorian Bath House, Bishopsgate opened in December 2015 and Six Storeys on Soho launched in Autumn 2016 followed by Grace Hall, Leadenhall in Autumn 2018.
The evening consisted of 15 awards across 4 categories – Modern Venue Marketing, Most Popular, Forward Thinking Venues and Superstar Event Organisers.

Camm and Hooper's fifth venue, Six Storeys on Soho scooped the award for Best Private Dining Venue. The venues innovative food and beverage offering, stunning interior and impeccable service are what make this venue stand out from the rest. Comprised of five beautiful event floors and a ground floor public bar, Six Storeys on Soho can accommodate up to 50 seated guests. From engagement parties to birthday celebrations Six Storeys has played host to many private dinners. Each floor offers an intimate setting with a beautiful view over Soho Square. Clients can relax in the comfort of their own private room without feeling overwhelmed by the space – whether you're a group of 10 or a larger party for 50 people, Six Storeys on Soho has a space to match.
In addition, Camm and Hooper also won the Best Venue Portfolio Marketing Award. Camm and Hooper pride themselves on creativity and innovation. Search engine marketing – combining organic ranking optimisation (SEO) and Google AdWords (PPC) – is used to increase brand awareness and website conversion. Through the use of Google BETAs, Visual Sitelinks (enabling imagery to be added to paid campaigns), Google Display Network campaigns, trialling Ad variations and using long-tail keywords and location targeting Camm and Hooper are constantly improving website visibility, while pinpointing underserved customer segments, customer needs that haven't been met and diversifying the target market to build a more sustainable environment.
Managing Director, Debra Ward is "…over the moon to have won in not just one, but two categories, both of which consisted of some well established competitors. Both awards are testament to our ability to curate iconic experiences for our clients both in person and online. It's a great time to be in the events business. I am proud to be working with such Extraordinary People, Curating Iconic Experiences."
London events management company Camm & Hooper and LGBTQI charity GiveOut today announced a new corporate-charity partnership.
Camm & Hooper will be providing GiveOut with free use of its Six Storeys venue in the centre of vibrant Soho. The venue – spread across six floors, each with a unique atmosphere – offers the perfect setting for GiveOut to host events for its community of supporters.
As part of the new partnership, the events specialists will also be fundraising for GiveOut and donating to support the charity in its work to raise funds for LGBTQI human rights activism worldwide.
"We are thrilled to be able to support GiveOut, an extraordinary charity. The work they do in championing LGBTQI human rights causes across the world is close to all our team's hearts as an international and people-led organisation." said Debra Ward, Managing Director at Camm & Hooper.
"On behalf of GiveOut and the activists and organisations with which we partner, I would like to thank Camm & Hooper for their generous support." said GiveOut's Executive Director, Rupert Abbott.
"We are so looking forward to working with the Camm & Hooper team to host events for our community of supporters here in London, as we seek to grow philanthropy to advance LGBTQI human rights globally."
For more information, please contact:
Camm & Hooper:
Rebecca Hadley, Head of Marketing: rebecca@camm-hooper.co.uk / +44 (0)7875599631
GiveOut:
Callum Jackson, Grant-making and Communications Officer: callum@giveout.org / +44 (0)7885 705170
Notes
Camm & Hooper (@Cammandhooper, cammhooper.com) is an events management company based in London. It manages six venues across London, each with its own unique style and atmosphere, for private and corporate events. Camm & Hooper continue to grow with a number of new venues in the pipeline throughout London, with 'best in class design'. Spaces include Tanner Warehouse, Banking Hall and the iconic Victorian Bath House in the heart of London's Bishopsgate.
GiveOut (@GiveOut_Org, giveout.org) is a UK-based charity raising funds for LGBTQI human rights activism worldwide, ensuring that activists and their organisations have more of the resources they need to defend their communities and campaign for change. The organisation enables individual donors to give tax efficiently in one place to support a broad portfolio of activist-led country, regional and international organisations. Alongside its core portfolio, GiveOut has launched two sponsored funds, The Antonia & Andrea Belcher Trans Fund and The Suki Sandhu LGBTQI Asia Fund. Registered in the UK with the Charity Commission for England and Wales (Registered Charity Number 1176434), GiveOut is a finalist in the 2018 Third Sector Award for 'Breakthrough of the Year'.
For news of upcoming GiveOut events at the Six Storeys venue, sign up to the charity's newsletter and follow them on social media: Twitter, Facebook, LinkedIn